Fé Program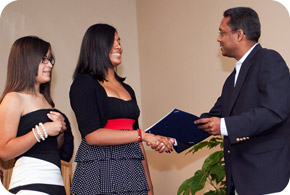 The Futuros Empresarios Program (FE Program) is a two-part summer initiative consisting of an academic session and an internship program run and administered by the Fé Foundation of the Lehigh Valley Hispanic Chamber of Commerce.
Summer Academic Session
The first part is a one-week college-like experience at De Sales University. Classes have also been held at the Penn State campus located in Center Valley, PA. The students learn an array of life and office skills that include things such as checkbook balancing and resumé writing to proper office etiquette and interviewing behavior. All of this while getting a taste of the college experience by staying in campus dorms at De Sales University.
Summer Internships
Following the weeklong course, students are placed into internships with businesses and organizations in the Lehigh Valley. The interests of the students, among other things, are taken into account when deciding where each student will intern. In these internships, students are able to expand on what they have learned during the academic session while also gaining insight into possible career paths and making great connections. As a reward, students receive a stipend upon graduation and will walk away much more prepared for the future.
Download the 2020 Futuros Empresarios (FE) Program Application here.