Our Story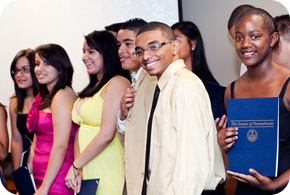 Since 2009, The Hispanic Chamber of Commerce of the Lehigh Valley and The Fé Foundation have been delivering educational and community development programs to our youth. Our leading program, Futuros Empresarios, has been bringing together students, university faculties, and local businesses and organizations in an attempt to introduce comprehensive life skills and entrepreneurial training to high school students of the Lehigh Valley. The Futuros Empresarios Program, or FE Program, is a two-part summer initiative consisting of an academic session and an internship program for high school students in 10th or 11th grade.
The objective is to develop tomorrow's business leaders by teaching them basic entrepreneurial skills and enable them to expand on this new knowledge by working at a company or organization aligned with their future interests. Furthermore, the Fé Foundation hopes to give high school students in 10th or 11th grade the final push they need to make the decision to take action toward a positive future.
The Fé Foundation is a response to the high dropout rate of Hispanic students in the Lehigh Valley. With the assistance of university faculty and local businesses, the Fé Foundation hopes to inspire students and insert into their lives a sense of pride and hope and the conviction that they can go on and be successful in their futures.